Huffingtonpost.com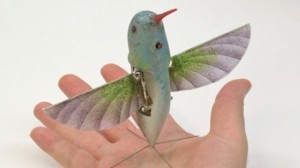 Even though Big Brother doesn?t really need this new toy to spy on us, with cell phones and Facebook doing a big chunk of the work for them, it?s always good to know what tools are at their disposal.
The government has been experimenting with and DARPA claims they?ve actually made insect cyborgs that rely on the heat and mechanical power generated by the insects themselves as they move around eliminating the need for batteries or other power systems.
This new hummingbird spy drone has taken five years to build and cost $4 million, per the Los Angeles Times, but the new model of the Nano Hummingbird drone really looks like a bird flying around. It would allow the military to literally drop a bird at a window ledger for reconnaissance purposes.
"You can use these things anywhere, put them anyplace, and the target will never even know they're being watched," said defense expert Peter W. Singer.
AOL News reports it's just a research project for now, but the battery-powered drone has a front-facing camera and can fly for up to eight minutes at a time.
[vsw id="a8ZbtZqH6Io" source="youtube" width="590″ height="344″ autoplay="no"]