Via reuters.com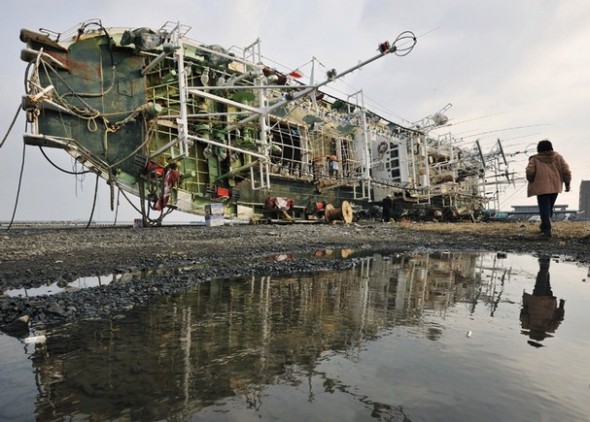 The economic damage from Japan's massive earthquake and tsunami last month is likely to be worse than first thought as power shortages curtail factory output and disrupt supply chains, the country's economics minister warned on Tuesday.
The more sober assessment came as Japan raised the severity of its nuclear crisis at the Fukushima Daiichi nuclear plant to a level 7 from 5, putting it on par with the Chernobyl nuclear disaster in 1986.
The Bank of Japan governor said the economy was in a "severe state," while central bankers were uncertain when efforts to rebuild the tsunami-ravaged northeast would boost growth, according to minutes from a meeting held three days after a record earthquake struck Japan on March 11.
The government and main opposition party have agreed to a spending package to get some reconstruction work started, but setting a large additional budget will be difficult due to Japan's heavy debt burden.
"After a natural disaster, people tend to refrain from spending and you get a sense that factory output will shrink," Economics Minister Kaoru Yosano told reporters after a cabinet meeting.
"In some areas, the impact could be very big."
Japan is facing its worst crisis since World War Two after a 9.0 magnitude earthquake and a tsunami towering more than 10 meters battered its northeast coast, leaving nearly 28,000 dead or missing and rocking the world's third-largest economy.
The government estimates the material damage alone could top $300 billion, making it by far the world's costliest natural disaster.
Finance Minister Yoshihiko Noda said on Tuesday that he would explain the Japanese government's efforts on post-quake reconstruction and the nuclear crisis at a Group of 20 meeting in Washington on April 15.
Measuring the impact on consumer sentiment, factory production and the supply chain is proving more difficult, but as the crisis drags on at the nuclear power plant, the damage to the economy looks to be more severe.
"We were in recession already," said Takuji Okubo, chief economist for Japan at Societe Generale.
"This time it will take longer for industrial production to rebound, because just-in-time delivery systems have become even more complicated."
Japan's economy is likely to grow 1 percent this year, down from 2 percent growth forecast before the earthquake, as private consumption slows to a halt, Okubo said. The economy could then accelerate to 3.9 percent growth next year, he said.
Shortages of key components, including semiconductors, point to the possibility of deeper and longer-running output disruptions from Japan that could also hobble factories elsewhere in the world which rely on Japanese parts.
Major Japanese automakers are grappling with complications caused by parts factories that have been shuttered or are running with limited power.
Toyota Motor Corp on Monday warned that the uncertain supply of parts from Japan could threaten its output of vehicles through July.
"Our economy is in a severe state," BOJ Governor Masaaki Shirakawa told lawmakers on Tuesday.
Many BOJ members said power supply constraints are likely to impact the economy on top of the damage from the quake, minutes from a March 14 meeting showed. The BOJ loosened policy at that meeting by doubling its asset-purchase program to 10 trillion yen ($118 billion).