Via dailymail.co.uk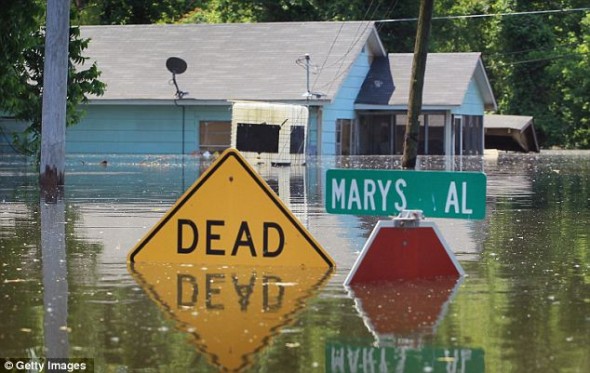 Floods in Mississippi to affect 10 percent of the state's oil industry
Worst first half of the year for weather-related costs on record
Disasters will affect insurance premiums throughout the country
The U.S. has suffered five billion dollars in weather related damage in 2011 so far – the highest ever recorded for a half year.
Tornadoes, blizzards, floods and storms have inflicted record costs because of their severity and their location – hitting populous areas such as Memphis, Tennessee, Raleigh, North Carolina, and Tuscaloosa, Alabama.
And for those who think they have escaped the worst, experts are now predicting Americans can expect rising insurance premiums as a result of the huge number of claims that continue to roll in.
Steve Bowen, a meteorologist who tracks weather disasters, told USA Today: 'This has been an incredibly active start to the year.'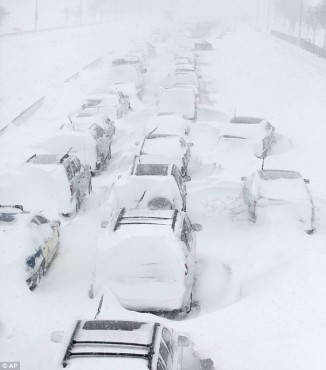 Mr Bowen lists three billion-dollar disasters in April alone – excluding the ongoing Mississippi River flooding and a blizzard that struck the Midwest and Northeast from January 31 to February 2.
Both are expected to cost more than $1 billion – the amount the federal government uses as the threshold to highlight the most severe weather disasters.
Robert Hartwig, president of the Insurance Information Institute, said storms this year had: 'Produced significant damage, disruption to business and closures and increased car accidents.'
This year's astronomical costs follow three record-breaking years, where thunderstorms and tornadoes alone have cost Americans $10 billion in annual damage.
Mr Hartwig added: 'It looks like 2011 is perhaps going to set perhaps a new record.'
The previous annual record breaker was in 2008, when nine billion dollars worth of damage was caused by the weather.
In that year only two disasters had hit by May.
The results, from the National Climactic Data Centre, date back to 1980.
Using information from insurers, state emergency-management centres and federal agencies, the centre is one of the most accurate methods of calculating the overall cost of weather related damage.
The news comes as rising floodwaters of the Mississippi River continue to threaten towns and farms between Memphis and the Gulf of Mexico, affecting up to 10 per cent of Louisiana?s onshore crude oil production.
A total of 2,264 oil wells are responsible for about 19,000 barrels of crude a day and more than 150 companies are preparing for flooding in a four-parish area in the southern part of the state.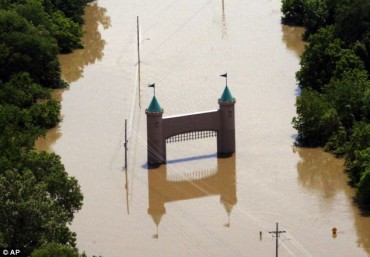 For weeks, the Mississippi and Ohio rivers, swollen by heavy rain and melted snow, have been inundating cities and towns, flooding cropland and disrupting shipping.
The Ohio rose to 61.72 feet, a record in Cairo, Illinois, before joining the Mississippi.
The threat of that flood reaching Baton Rouge and New Orleans has the Mississippi River Commission considering opening the 125 gates of the Morganza Floodway.
The flood has shut 17 of Mississippi?s 19 river-based casinos in the U.S.?s third-largest gaming-employment market, jeopardizing thousands of jobs and $13 million a month in taxes.
Flooding will slow the state?s recovery from a recession two years ago, already lagging behind the U.S.