Via dailymail.co.uk
Manufacturing index falls to 53.5 from 60.4 in April
Private employers added just 38,000 jobs in May
Dow Jones crashes more than two per cent by 280 points and erases quarter of year's gains
Republicans press Obama for detailed plan on cuts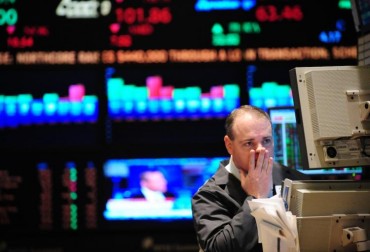 It might be time to hold onto your hats again as the U.S economy crashes.
A market strategist gave the dire prediction that ?we?re on the verge of a great, great depression? as the economy suffered a triple blow today.
Big falls in job growth and the manufacturing sector wiped out more than a quarter of the Dow Jones industrial average's gains for the year.
The index fell 280 points – more than two per cent – as top House Republicans pressed President Obama for a detailed plan on budget cuts.
The 2.2 per cent drop was the biggest point fall since June 4 last year – and the largest percentage fall since August.
Peter Yastrow, market strategist for Yastrow Origer, said he is seeing ?near panic? with investors unwilling to punt on unpredictable commodities.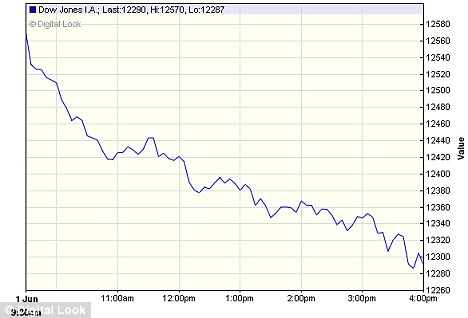 ?Interest rates are amazingly low,? he told CNBC. ?We?re on the verge of a great, great depression. The (Federal Reserve) knows it.?
It comes a day after Capital Economics said the first quarter drop in house prices means they have fallen by more than during the Great Depression.
Doubts about the economy's strength that built throughout May were compounded by a pair of reports weaker than investors expected.
private employers added just 38,000 jobs in May, down from 177,000 in April, according to payroll processor ADP.
Analysts had expected 180,000 new jobs, so it is another major blow.
Stock losses came across the market, with all 10 industry groups that make up the Standard and Poor's 500 index losing ground.