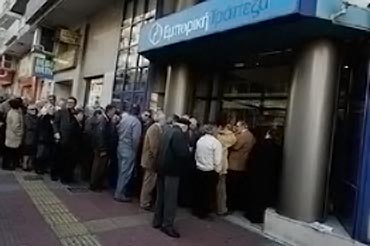 Fearful Greeks have withdrawn savings from banks over the past week because of a deepening political crisis and fear of an exit from the euro, banking sources said on Wednesday.
Greeks withdrew as much as 5 billion euros ? nearly 3% of total deposits ? after outgoing Prime Minister George Papandreou?s shock call last week for a referendum on a eurozone bailout, said one banker, who declined to be named.
?Many people withdrew their money from banks on Thursday and Friday and money couriers had a hard time supplying banks with cash to satisfy the emergency demand,? said another banking source, who declined to be named.
Greece?s central bank governor made a rare public appeal for a new government to take charge and end the dithering and has warned that Greece?s eurozone membership is at stake.?The (political) uncertainty is hurting the economy and the banking system,? Bank of Greece governor George Provopoulos told Reuters. ?There must be a strong government that will work hard to ensure the country?s future in the eurozone.?
European leaders have warned Athens that the country must show it can get its act together to secure bailout money before the government runs out of money in December.
Resigned to political bickering and a growing sense of chaos, Greeks headed to the banks in droves.Many fear the Greek bank system could collapse and a sharp loss in the value of their deposits if Greece leaves the euro and is forced to adopt a new, weaker currency.
?We got to the point where customers ordered amounts of up to 600,000 to 700,000 euros in cash to take home ? unbelievable,? the first banker said. ?This strains the system.?