Via RT.com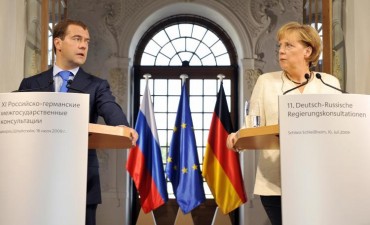 The European crisis is deepening. Writer and political scientist Igor Panarin believes the best way to rescue Europe and secure its unity is by forging a Russo-German alliance.
Just as many experts predicted, the European financial crisis has spread beyond Europe. Hopes that its two key powers could pull the region out of its nosedive faded on news of a looming credit rating downgrade for France. That leaves Germany the sole remaining leader nation of a united Europe.
It would seem that European integration should have been of use for Europe in avoiding a financial crisis. Having embarked on the path of integration in the 1950s, Europe until recently seemed to be just a step away from evolving into something more than a community of nations. As a major indicator of that trend, most European countries adopted a single European currency, the euro, which was originally based on the German Deutsche Mark. However, despite initial success in forging a common European economy, 2011 has ushered in a second wave of the global financial crisis, and demonstrated how fragile European unity really is.
It is now apparent that, should the euro collapse, Germany is bound to wind up the biggest loser. It is therefore more practical for Berlin to bail out its partners than to try to distance oneself from the ailing community. Rescuing the euro and securing European integration is, in fact, a matter of self- preservation for Germany, as a collapse of the single currency and common market would be fraught with disastrous consequences for the German economy.
But if Germany is to rescue the whole of Europe, it will surely need a strong and reliable companion. France can hardly be counted upon, as its own economy is currently in trouble and seems barely capable of escaping its own demise, despite serious effort. Therefore, the only effective way of rescuing Europe from the crisis is for Germany is to team up with Russia. Russia and Germany, two great European nations, should propose a joint action plan for addressing Europe?s critical economic situation.
This notion might seem somewhat eccentric at first glance. But considering that every other attempt at fending off Europe?s financial crisis has proved unsuccessful, it has definite merits. A Russo-German alliance would serve as a major asset for getting the entire international community through the global economic downturn.
The Germans and Russians have a time-honored record of cooperation which could be successfully resurrected today. All the more so since the past year?s economic developments have provided a perfect setting for reintroducing a Russo-German alliance as a potential rescuer for Europe.