Via jpost.com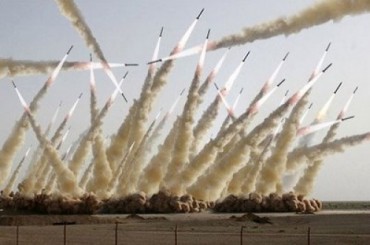 Israel is likely to come under fire from 8,000 rockets and missiles if a war breaks out in the coming year, according to updated IDF intelligence. Regarding the capabilities in the hands of it enemies, according to the assessment, it is possible that hundreds Israelis would be killed in such a war.
Based on these assessments and the growing arsenals of Hamas, Hezbollah, Syria and Iran, a war in 2017 would likely include the firing of 15,000 rockets and missiles into Israeli cities, causing greater devastation and more casualties. The IDF believes that most of the rockets will be short-range and another 5,500 will have a range over 70 km.
"The arsenals that surround us are increasing in their quality, quantity as well as in their accuracy," a senior IDF officer said on Tuesday. For example, the officer said, by 2017 the IDF believes that Syria, Hezbollah and Iran will have close to a thousand rockets with accuracy of a few dozen meters.
The revelation regarding the missile threat to the Israeli home-front comes as the IDF continues to negotiate with the government regarding the defense budget for 2012. The IDF had initially planned to implement a new multi-year plan for the years 2010-2017, but put those plans on hold after the government decided to cut the defense budget in wake of the past summer's social protest.
According to the IDF, under the NIS 50 billion budget proposed by the government the IDF is still missing close to NIS 7 billion needed for training its forces, procuring new capabilities and adequately countering the growing threats in the region. Deputy Chief of Staff Maj.-Gen. Yair Naveh recently appeared before the government and proposed that the IDF receive NIS 5 billion and find within its budget the remaining NIS 2 billion.
Naveh warned the government that if the money is not allocated, the IDF will not be able to procure new missile defense systems such as the Iron dome for short-range rockets, David's Sling for medium-range rockets, and the Arrow 2 and Arrow 3 for long-range ballistic missiles.
The IDF assessed that it will require around a dozen Iron Dome missile defense batteries to protect Israel from the short-range missile threat along its borders. The gap in the budget, according to the IDF, stems from the government's refusal in recent years to compensate it for the increase in the costs of living within Israel, such as the rising expenses of gas and food.
According to the Brodet Commission, which studied the defense budget five years ago, the IDF is supposed to receive compensation for these costs. The Brodet Commission's recommendations were approved by the government at the time. One of the recommendations capped the amount the IDF would pay in property tax at NIS 320 million. The Treasury has refused to implement that recommendation and today the IDF is paying over NIS 700 million.