Via Infowars.com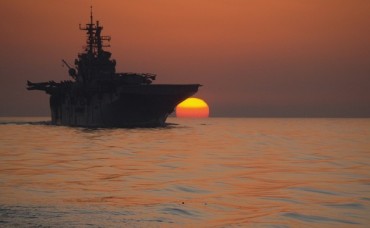 The Washington Post reports today on an assessment by U.S. intelligence that Iran will launch an attack inside the United States if the country is bombed.
James Clapper, Obama?s director of National Intelligence, submitted an unclassified statement to the Senate?s Select Committee on Intelligence. In prepared testimony, Clapper said that an alleged Iranian plot to assassinate the Saudi ambassador in Washington last year ?reflects an aggressive new willingness within the upper ranks of the Islamist republic to authorize attacks against the United States,? the Post reports.
CIA Director David Petraeus also testified about Iran during the committee hearing.
In October, the assassination plot was dismissed by Iran experts and former intelligence agents as amateurish and unbelievable. Robert Baer, a former Middle East CIA field officer, said the alleged plot resembled a bad Hollywood script and was out of character for Iran?s Quds Force, the paramilitary group said to be behind the supposed plot.
Despite the skepticism of professionals like Baer, U.S. officials are using the debunked plot as the basis to claim the Iranians have ?changed their calculus and are now more willing to conduct an attack in the United States in response to real or perceived U.S. actions that threaten the regime,? according to Clapper.
?We are also concerned about Iranian plotting against U.S. or allied interests overseas. Iran?s willingness to sponsor future attacks in the United States or against our interests abroad probably will be shaped by Tehran?s evaluation of the costs it bears for the plot against the ambassador as well as Iranian leaders? perceptions of U.S. threats against the regime,? Clapper testified.
Other alleged terrorist threats were sidelined during the hearing, including discussion of al-Qaeda, which officials claim ?has been badly degraded.? Discussion centered primarily on Iran, the purported nuclear threat posed by North Korea, and Chinese cyber espionage.
In recent days, the Obama administration has ramped up its rhetoric over the perceived Iranian threat. During his State of the Union address, Obama touched on the prospect of armed intervention in Iran over its unsubstantiated nuclear weapons program. Obama said he would ?take no options off the table? to achieve a nuclear free Iran.
On Sunday, Defense Secretary Panetta said on CBS?s 60 Minutes that Iran was a year away from developing a nuclear bomb and a year or two away from developing an ICBM capable of delivering it.
In Israel, the debate is not if the country should attack Iran, but when. On Monday, Ronen Bergman, one of Israel?s foremost military experts, told New York Times Magazine there is ?a high probability? that Israel might strike Iran in 2012.?
?According to the Israeli assessment, a successful strike, a strike that would be conducted according to planning, would be able not to destroy the project ? nobody thinks that Israel is able to destroy it, even not the Americans, but to inflict a significant damage that would end with a delay of three to five years,? Bergman said.
Comments made during the Senate intelligence meeting earlier today with Clapper and Petraeus revealed that Mossad chief Tamir Pardo held secret talks with top U.S. officials in recent days. The closed door meeting with Mossad was revealed by Dianne Feinstein, who chairs the Senate panel.
A report posted today on Infowars.com by Marc Slavo notes a report claiming the U.S. military has been quietly amassing troops and armaments on two islands located just south of the Strait of Hormuz.
DEBKAfile, a neocon propaganda outfit, reported that Obama ?secretly ordered US air, naval and marine forces to build up heavy concentrations on two strategic islands ? Socotra, which is part of a Yemeni archipelago in the Indian Ocean, and the Omani island of Masirah at the southern exit of the Strait of Hormuz.?
DEBKAfile contends that since 2010 the U.S. ?has been quietly building giant air force and naval bases on Socotra with facilities for submarines, intelligence command centers and take-off pads for flying stealth drones, as part of a linked chain of strategic US military facilities in the Indian Ocean and Persian Gulf.?
Additional U.S. forces, DEBKAfile believes, are also arriving at Camp Justice on the barren, 70-kilometer long Omani island of Masirah, just south of the Hormuz entry point to the Gulf of Oman from the Arabian Sea.