Via Prisonplanet.com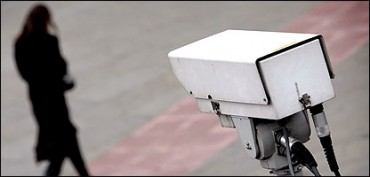 Residents of a block of flats in North London were outraged to discover cameras in their gardens barking out orders, telling them to leave the area immediately and that they were being monitored by the authorities.
In a scene that wouldn?t look out of place in the movie Robocop, one resident captured footage of the shouting cameras telling him ?Stop, this is a restricted area and your photograph is being taken.?
The robotic American voice then warned that the images would ?be sent for processing if you don?t leave the area now.?
Watch the footage below:
[vsw id="YcocIG1CA2k" source="youtube" width="590″ height="370″ autoplay="no"]
UK surveillance watchdog group Big Brother Watch slammed Camden council for using the cameras:
?This kind of technology may be acceptable in a police state or a science fiction film, but it is absolutely not in modern Britain?, spokesman Nick Pickles told the London Telegraph.
?The idea that a Robocop recording will tackle antisocial behaviour and crime is as laughable as it is a total invasion of privacy. Who knew councils had the authority to take your photograph simply because you walked into a communal garden?? Pickles added.
Camden council responded by claiming that the vocal element of the cameras was activated ?by mistake? and ?will be deactivated as soon as possible.?
In a telling admission, a council statement noted ?All flash cameras have the capacity to deliver voice messages when activated.?
?In this instance it appears that voice messages were inadvertently activated when the camera batteries were replaced four to five weeks ago.? the statement added.
?We do not want to stop residents from enjoying their open spaces and communal areas and under no circumstances would we want voice messages to be used in areas where they may be disturbed.? the statement continued.
Infowars first reported on the phenomenon of shouting cameras in 2006, after reports that the technology was being rolled out in Britain.
It was even suggested by some within government that some of the cameras may be fitted to speak in the voices of children in a bizarre psychological move to make people subjected to them more compliant.
Since that time, the technology has become more widespread, and more sophisticated with cameras now ready to lip-read, record conversations, use x-ray scans to see through people?s clothes, check faces against criminal databases, automativally detect ?suspicious? behaviour and even predict crimes before they take place.
With millions of CCTV cameras installed in London alone, one wonders just how many of these features are already in operation or could be activated with a flick of a switch, just like the shouting cameras discovered in Camden.