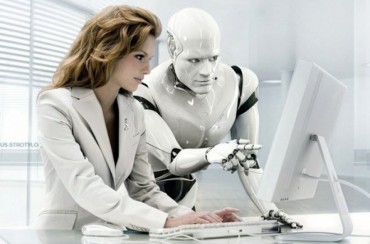 Halfway through the Antichrist seven-year reign, the Antichrist will break the covenant (Daniel 9:27b, 11:31), & take away the daily sacrifice, (Daniel 8:11) & abolish all traditional religious worship (Daniel 11:37), declare that he himself is God (2 Thessalonians 2:4).
At this time, an extraordinary idol, Android, or Robot described in Revelation as the "image of the Beast", will be erected in Jerusalem, apparently on the grounds of the rebuilt Jewish temple. Jesus referred to this image as the "Abomination of Desolation" ( Matthew 24:15,21). This image is likely to be an incredibly high-tech supercomputer, intrinsically linked to the New World Order's telecommunications network. Scripture says it will speak and somehow "cause those who refuse to worship it to be killed" ( Revelation 13:11-18).
Although, this news article is not describing the final ultimate 'image of the beast" or the "Abomination of Desolation", nevertheless you can see that the technology is being worked on. – Joseph Candel
A baby's first step is often considered the hardest and the most significant. Human babies, which are among those that are altricial at birth, are unable to walk and must "learn" to do so, often by mimicking the movements of other people.
Now engineers with the University of Arizona have developed a set of robotic legs that essentially also work by mimicking the movements of humans. Researchers Theresa Klein and M. Anthony Lewis, both of the university's Department of Electrical and Computer Engineering, describe their project in a paper published in the Journal of Neural Engineering.
The robot is able to walk — much like a human — by placing one foot in front of the other. While this is a step forward for the robot, is it a step forward for robotic development?
"There are many reasons to have a biped robot that walks," said Daniel Wilson, New York Times bestselling author of Robopocalypse. "Human beings have created an environment that is designed for the human form factor, including hard, flat surfaces that we walk on. We are creating machines that are more lifelike that can work and be mobile in our world."
In Our Own Image?
"So God created man in his own image" — Genesis 1:27
Are Klein and Lewis, as well as other robotic engineers, attempting to create robots in their — and by extension to all humans — our own image?
"The only real reason to create legs that are human-like is to create either artificial limbs that looked real or simulate humans, which could range from robots that better operated machines that were made for humans or because they needed human-looking surrogates," said Rob Enderle, principal analyst at the Enderle Group. "The two groups aren't mutually exclusive, and emulation would serve both purposes."
However, the interface requirement might be short-lived, given you eventually would design the intelligence into the system and no longer build a human interface where robots became a cost-effective option, added Enderle.
Uncanny Valley
Creating robots that begin to become more human-like will likely lead to an "uncanny valley" stage — that is, a stage when humans become uncomfortable around "replicas" that look and act almost — but not exactly — like human beings.
Getting robots to walk and move more like humans could be helpful in avoiding the valley.
"We don't move our arms and legs with perfect efficiency," said Wilson, who earned a PhD in robotics from Carnegie Mellon University. "When robots move an arm to pick up something, they do so in the most mathematically efficient course — but it isn't natural."
Could the Robots Rise?
The final equation in this is whether robots designed to be human-like could create a scenario straight out of science fiction — first where robots could become servants — even slaves — and then in turn could rise against those who created them, namely humanity.
"The latter line would only really be crossed if robots understood and objected to this subservient position," said Enderle. "Otherwise, while they'd look increasingly more human, they would be no more true slave than a toaster."
But could we even get to that step?
"Absolutely not," said Wilson, who has written many science fiction books suggesting such a scenario.
"All that fiction is fun to think about, but it just tends to be a projection of our fears and hopes," he explained. "It isn't necessarily a portrait of the future. Robots can be a solution to problems — and the more robots we create, the more problems we can solve. These are just the most powerful tools ever built."
It is likely that robots will more likely resemble tools than the humans using the tools, even as people strive to create machines in their image.
"Recently I interviewed Colin Angle of iRobot, who maintains that it's unlikely that any commercial human-like robots will be built, and that instead future service robots will not look human at all," said Hiemstra. "But in the very long term, I suspect the quest to build humanoids will continue."