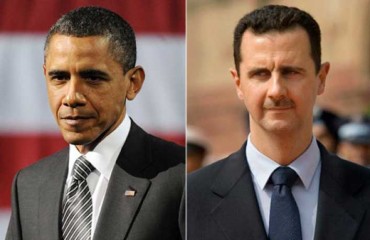 The latest drumbeats are an imminent strike by Thursday,there are massive fears in the market and oil prices are surging. There have been reports put out by Big Banks like SocGen and Goldman Sachs that oil can bloom to $150 a barrel if the Syrian conflict goes hot with involvement from Russia and China.
The news that I have gotten from my sources run inverse to what many are saying. Take this with a grain of salt but the imminent strike on Syria if it goes through tomorrow will be limited with less than 40 targets. From what I have heard is that this administration has leaked on purpose the sites targeted for strike.
They have made it a point to tell Bashar that he is not in any danger and that this is a show of force based on the ruse of a chemical weapons discharge that requires an "international" response. In essence America is playing cop and have to slap the wrist of the evildoer. Barry O. will be meeting with Putin next week to broker a deal to include Russia a place at the table. In other words the banksters are NOT yet ready to pull the trigger NOW in August. But come October all bets will be off.
What that simply means is this. Russia will not respond to the limited action against Syria so long as Russian assets are not harmed. Hence Putin also has the targeted sites given to him by Barry . Bashar will move his assets/weapons and this will be a simple show. A show for what? A market reaction test to see how high the fear will build and a needed distraction that will allow more assets to be stolen and more draconian legislation to be passed. Look for the UN small arms treaty, as well as various tests and drills around the country as DHS will be working over time.
Again take it for what it's worth, World War 3 does not kick off tomorrow but by October all bets are off. I sense any deal brokered by Barry will be reneged and Putin will feel the sting of the American back stab. At that point it was a pleasure to know some of you and it was an honor serving all of you through the internet and radio. The implosion has started but not yet.