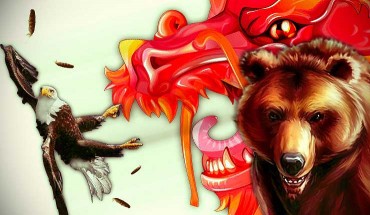 Via Zerohedge.com
Earlier today we reported that according to weekly Fed data, a record amount – some $105 billion – in Treasurys had been sold or simply reallocated (which for political reasons is the same thing) from the Fed's custody accounts, bringing the total amount of US paper held at the Fed to a level not seen since December 2012. While China was one of the culprits suggested to have withdrawn the near USD-equivalent paper, a far likelier candidate was Russia, which as is well-known, has had a modest falling out with the West in general, and its financial system in particular. Turns out what Russian official institutions may have done with their Treasurys (and we won't know for sure until June), it was merely the beginning. In fact, as the FT reports, in silent and not so silent preparations for what will be near-certain financial sanctions (which would include account freezes and asset confiscations following this Sunday's Crimean referendum) the snealy Russians, read oligarchs, have already pulled billions from banks in the west thereby essentially making the biggest western gambit – that of going after the wealth of Russia's 0.0001% – moot.
Russian companies are pulling billions out of western banks, fearful that any US sanctions over the Crimean crisis could lead to an asset freeze, according to bankers in Moscow.

Sberbank and VTB, Russia?s giant partly state-owned banks, as well as industrial companies, such as energy group Lukoil, are among those repatriating cash from western lenders with operations in the US. VTB has also cancelled a planned US investor summit next month, according to bankers.

The flight comes as last-ditch diplomatic talks between Russia?s foreign minister and the US secretary of state to resolve the tensions in Ukraine ended without an agreement.

Markets were nervous before Sunday?s Crimea referendum on secession from Ukraine. Traders and businesspeople fear this could spark western sanctions against Russia as early as Monday.
It probably will. What it will also do is force Russia to engage China far more actively in bilateral trade and ultimately to transact using either Rubles or Renminbi, and bypass the dollar. Perhaps even using gold, something which the price of the yellow metal sniffed out this week, pushing itself to 6 month highs. It will also make financial ties between the two commodity-rich nations even closer, while further alienating that "imperialist devil," the US.
Of course, the west thinking like the west, and assuming that all that matters to Russia is the closing level of the Micex, believes that a sufficient plunge in Russian stocks would have been enough to deter Putin. After all, the only thing everyone in the US cares about is if the S&P 500 closed at yet another all time high, right?
What the west didn't realize, as we predicted a month ago, for Putin it is orders of magnitude more important to have the price of commodities, primarily crude and gas, high than seeing the illusion of paper wealth, aka stocks, hitting all time highs. Especially since in Russia an even smaller portion of the population cares about the daily fluctuations of the stock market. As for the oligarchs, if there is someone who will be delighted to see their power, wealth and influence impacted adversely, if only for a short period of time, it is Vladimir Vladimirovich himself, whom the west misjudged massively once more. Not to mention that the general population will be even more delighted, and boost Putin's rating even higher, if these crony billionaires are made to suffer by the west, if only a little.
(Here we would be remiss not to comment on how easy it supposedly is for Obama to freeze the assets of a few corrupt Russian billionaires, and yet the very proud Americans who nearly brought the entire financial system to the brink in 2008, are now richer than ever.)
In the meantime, some of Russia's oligarchs are effectively welcoming the challenge. Bloomberg reports:
Alisher Usmanov, the country?s richest person, controls his most valuable asset, Metalloinvest Holding Co., Russia?s largest iron ore producer, through three subsidiaries, one of which is located in Cyprus, an EU member nation. The 60-year-old also owns a Victorian mansion in London that he bought in 2008 for $70 million, according to a May 18, 2008, Sunday Times newspaper report. He?s lost $1.5 billion since the crisis began, according to the Bloomberg ranking.

?We are concerned with the possible sanctions against Russia but don?t see any dramatic repercussions for our business,? Ivan Streshinsky, CEO at USM Advisors LLC, which manages Usmanov?s assets, including stakes in Megafon OAO and Mail.Ru Group Ltd., said in an interview at Bloomberg?s offices in Moscow today.

?Mail.Ru and Megafon revenue is coming from Russia and people won?t stop making calls and using the Internet,? he said. ?Metalloinvest may face closure in European and American markets, but it can re-direct sales to China and other markets.?
Great job, Obama: you just pushed Russia and China even closer by necessity! Furthermore, it should come as no surprise that while Russians were pulling their money from the west, western firms were getting out of Dodgeski.
One senior Moscow banker said 90 per cent of investors were already behaving as if sanctions were in place, adding that this was ?prudent exposure management?.

These moves represent the flipside of the more obvious withdrawal of western money from Russian markets that has been evident over the past fortnight.

Traders and bankers said US banks had been particularly heavy sellers of Russian bonds. According to data from the Bank for International Settlements, US banks and asset managers between them have about $75bn of exposure to Russia.

Joseph Dayan, head of markets at BCS, one of Russia?s largest brokers said: ?It?s been quite an ugly picture in Russian bonds the last few days and some of it has to do with international banks reducing exposure.?

Although foreign banks have not yet begun cutting credit to Russian companies en masse, bankers said half a dozen live deals to fund some of Russia?s biggest companies were in limbo as lenders waited to see how punitive western sanctions would be.
So the bottom line is that Russia, thinking a few steps ahead, already has withdrawn the bulk of its assets from the West, and why not. Recall that a year ago it was revealed that the same Russians who were supposed to be punished in Cyprus had mostly withdrawn their funds in advance of the bail in: they tend to know what is coming. It was the ordinary Cypriot citizens, who had done nothing wrong, who were most impaired.
And so while the Russian response is already known, we wonder just how true is the inverse: just how prepared is the west, and especially Europe, to exist in a world in which a third of Germany's gas is suddenly cut off? We can't wait to find out early next week.