Via NaturalNews.com
Debased humanity's growing fascination with transforming the natural human appearance into the likeness of demonic entities is gaining traction through a movement known as "transhumanism," or the blending of humans and machines, which is reportedly gaining popularity within some subcultures.
Piercings and tattoos are now old news for these folks, who are increasingly opting for the literal injection of things like silicone "devil horns," internal metallic objects and even radio frequency identification chips directly into their bodies. And while they claim that doing so will help humanity, the concept reeks of the "mark of the beast" scenario warned about in the Bible.
The photo below shows the owner of a Denmark-based company known as "Copenhagen Body Extremes," who is seen holding a skull, making a devil-worship gesture with his hands and proudly displaying devil horns on his head. Muffe Vulnuz, according to World Crunch, is one of the ringleaders of this disturbing bodily mutilation trend.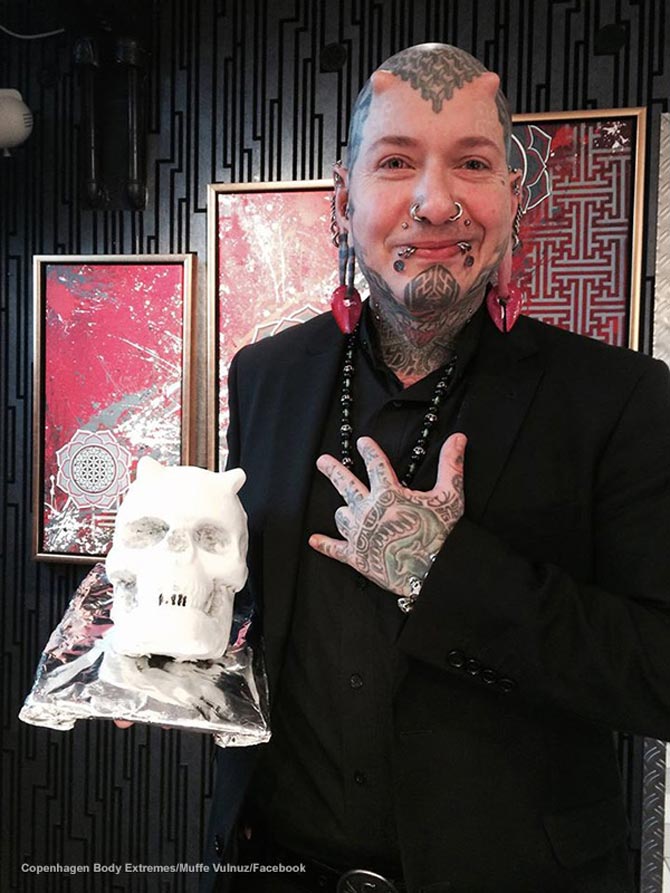 Vulnuz, who is admittedly obsessed with bodily mutilation, says he's already microchipped himself and some 300 others as part of a movement to create hybrid human-machines, all in the name of open-source technology advancement.
Transhumanism is the gateway towards a cashless, one-world global control system
The point of the microchips, he says, is to supposedly help simplify people's lives and allow them to potentially not have to carry around various forms of identification, cash and credit cards in the future. With a microchip, he says, Vulnuz and his followers are "pioneering" an effort to create what one of his supporters describes as "connected bodies."
"We carry with us loads of personal objects — bank cards, driving licences, library cards, house keys, office keys, car keys, which have no other goal than to identify us,"
said Hannes Sjoblad, a Seattle native and the organizer of a recent "implant party" that took place at Vulnuz' shop.
"Eventually, we'll be able to get rid of all that and to replace them all with one unique digital identification."
In other words, Vulnuz, Sjoblad and various others are right now benchmarking the push towards a cashless society in which every human being will be expected to prove who they are, make purchases and engage socially using injected RFID microchips, without which it will eventually be difficult, if not impossible, to survive.
"For now, there are only a handful of possible uses," said Hannes. "But the more people adopt chips, the more companies and public institutions will be encouraged to develop new features."
Satanists now injecting RFID chips into people's hands throughout Europe and North America
And the movement isn't just isolated to Denmark — according to Vulnuz, thousands of his microchips are being shipped to the U.S. and various locales throughout Europe, including in the Netherlands, Sweden, Finland, Belgium and France.
"These implants will be like our internal organs," purports Hannes, ominously, "our kidneys, our livers, and they'll [fulfill] their purpose without us even thinking about it."
The image below depicts the spot on a individual's arm where an RFID microchip was injected: