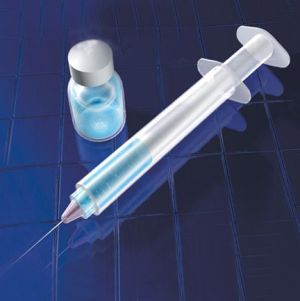 A U.S. based pharmaceutical company that just weeks ago was involved in a scandal involving vaccines tainted with deadly avian flu virus has been chosen to head up efforts to produce a vaccine for the Mexican swine flu that has seemingly migrated into the U.S. and Europe.
Baxter confirmed over the weekend that it is working with the World Health Organization on a potential vaccine to curb the deadly swine flu virus that is blamed for scores of deaths in Mexico and has emerged as a threat in the U.S., reports the Chicago Tribune.
Baxter has previously worked with governments all over the globe to develop and produce vaccines to protect against infectious disease or potential threats from bioterrorism. After 9/11 Baxter helped supply stockpiles of a smallpox vaccine and in 2003 the company was contracted to develop a vaccine to combat the SARS virus. In 2006 the UK Government announced plans designed to inoculate every person in the country with Baxter's vaccines in the event of a flu pandemic.
However, Baxter has a very recent and most disturbing connection to flu vaccines.
As reported by multiple sources last month, vaccines contaminated with deadly live H5N1 avian flu virus were distributed to 18 countries last December by a lab at an Austrian branch of Baxter.
It was only by providence that the batch was first tested on ferrets in the Czech Republic, before being shipped out for injection into humans. The ferrets all died and the shocking discovery was made.
Czech newspapers immediately questioned whether the events were part of a conspiracy to deliberately provoke a pandemic, following up on accusations already made by health officials in other countries.
Initially, Baxter attempted to stonewall questions by invoking ?trade secrets? and refused to reveal how the vaccines were contaminated with H5N1. After increased pressure they then claimed that pure H5N1 batches were sent by accident.
Since the probability of mixing a live virus biological weapon with vaccine material by accident is virtually impossible, this leaves no other explanation than that the contamination was a deliberate attempt to weaponize the H5N1 virus to its most potent extreme and distribute it via conventional flu vaccines to the population who would then infect others to a devastating degree as the disease went airborne.
The fact that Baxter mixed the deadly H5N1 virus with a mix of H3N2 seasonal flu viruses is the smoking gun. The H5N1 virus on its own has killed hundreds of people, but it is less airborne and more restricted in the ease with which it can spread. However, when combined with seasonal flu viruses, which as everyone knows are super-airborne and easily spread, the effect is a potent, super-airbone, super deadly biological weapon.
Indeed, some have already suggested that the current scare could represent the use of such a weapon.
Now it has been announced that Baxter is seeking a sample of the potentially lethal never before seen form of swine/avian/human flu virus in order to assist the World Health Organization in developing a new vaccine, reaping billions in the process.
Why should Baxter be trusted, when they have already been proven to be at the very least criminally negligent, and at worst a prime suspect in attempting to carry off one of the most heinous crimes in the history of mankind?
The company has already put the safety of the entire human race at risk, and now, just a few weeks later, we're expected to invest our confidence in them and take their shots with a smile and a still tongue?
As Mike Adams of Natural News has commented, "If you mail an envelope full of anthrax to your Senator, you get arrested as a terrorist. So why is Baxter ? which mailed samples of a far more deadly viral strain to labs around the world ? getting away with saying, essentially, 'Oops?'"
WHO officials are reportedly still closely monitoring the investigation into Baxter's contaminated flu vaccines, seemingly they are not too concerned. Perhaps we should be.