Via infowars.com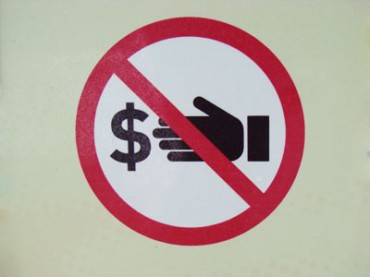 Cashless society, a familiar expression. Everyone has heard it at least once in their lives. Whether you are conscious of the expression or not, it has been thrown around countless times over the last few decades. The words themselves evoke imagery of popular science fiction films, set in the not-too-distant future. If one was to loosen the grip of reality for just a moment, movies like Minority Report andDemolition Man have already painted a clear picture as to what society is to expect for the future of commerce. But what do the words actually mean? What will a cashless society actually necessitate to breach the realm of science fiction and explode into our reality?
State of the Art
If magnetic stripes were once the pinnacle of commerce, and RFID technology still relies on a similar sized piece of plastic, you could consider them the same. Technology today has radically evolved into a completely unknown beast. Check out the ?Brain Computer Interface? and come to the realization that the world is ?moving forward? quicker than you can imagine. It is a device that fuses the nervous system of a patient with electronics, by implanting a computer chip into the motor cortex of a patient?s brain, and allows signals sent from the brain to interface with a computer. A person can literally move a mouse cursor on the computer screen with thought alone. This is revolutionary for those suffering a condition known as ?locked in? syndrome, a debilitating condition which prevents a person from moving or communicating due to near total paralysis. However, the focus is on technology that simply allows for commerce to take place, in a cashless way.
Mobile phones are now being used as virtual wallets. Many of them are RFID enabled through NFC and current testing is taking place in Australia to allow them to be used in place of familiar plastic cards. Of course this technology is going to be accepted en mass, but will they lead the world to a cash free environment?
Cashless  society. A world without cash.  It makes sense, we are nearly there if you consider that Internet transactions are basically ?cashless?. Yet we are still bound to carrying something physical aren?t we? Credit cards need wallets, Internet transactions need credit cards. In the late seventies, credit cards didn?t create the cashless society. If credit cards that utilize NFC instead of magnetic stripes don?t constitute a cashless society, and mobile phones are based on the exact same technology, then the only thing left would be something totally intangible.
?Now, you have heard of the credit society where people are enabled to get credit cards and buy shoes and things at the store based on a credit card, but if your credit goes bad you can?t use your credit card. But even if your credit goes bad, you can still take a five dollar bill, go into the grocery store and buy yourself some bread and some milk.
?Under the cashless society, with one click, you can be DE-listed from having a transaction. So while you can call it the cashless society, or corporate America or the global corporations can call it a cashless society.. so it?s convenient.. so we?re not burdened with dollar bills and things. There?s a dark side to that. This is Promethean. This is a great convenience and also a great avenue to individual destruction. A great avenue toward the confiscation, not of money, but of personal liberty.
?Imagine what would happen if the government in Syria, North Korea, China, Libya, certain parts of the United States and maybe northern Ireland, whatever society you wish to look at, decides that it can push a button a stop somebody from having a transaction. They can already push a button and stop your master card in a moment?s notice, but can they actually push a button and stop you from buying bread? That?s what the cashless society will do. ?
Edwin continues, ?These are the Promethean issues that face us with the cashless society, which is merely the next step in a society which is controlled and mass controlled and centralized?.
This isn?t a ?conspiracy theory?, it?s a hypothetical situation that can occur tomorrow, as the technology is already being used throughout the world. VISA has already promised a cashless experience for everyone at the 2012 Olympics. ?Conspiracy theory? are trigger words, very powerful ones. Even the most intelligent of people fall victim to the power this expression wields both in its use as a weapon to prevent an epic dialectic, or experience its devastating destructive powers as it is aimed in your direction.
Hands Free Radio Frequency Identification Device?s
Onto the stage and into the lime light steps the Verichip, the world?s first and only FDA approved implantable microchip for humans. Get implanted with this RFID chip, and forever you can be ?read? with a hand held device. Mobile phones are RFID enabled through NFC. Upon the ?scanning?, the RFID chip broadcasts a unique identifier key that allows the ?reader? to match your unique chip with the relevant database record.
There is a night club in Barcelona, Spain, named the Baja Club. Since 2004 it has been offering patrons the opportunity to have themselves implanted with a Verichip. If anyone were to take the club up on in their offer, they are to be afforded access to the VIP section in the nightclub, and not only did they not require photo identification to enter the club, they also had their drink tabs charged to the chip. This, by it?s very definition, is a cashless society. Aforementioned logic dictates that for a cashless society to exist it would need to be totally intangible commerce. Although right now it is limited to a night club party lifestyle, how long would it take for this to spread like an epidemic throughout the world, seeping into every crevice of modern commerce?
As technology advances and we as consumers expect life to get easier and more convenient, how are we to know that we aren?t going to get burnt? Is the cashless society the next step towards another holocaust? A technological holocaust, at the discretion of those who control the digital money?
This is not the ?cashless society? that Hollywood or corporate America would have you believe. Is it?