Via Infowars.com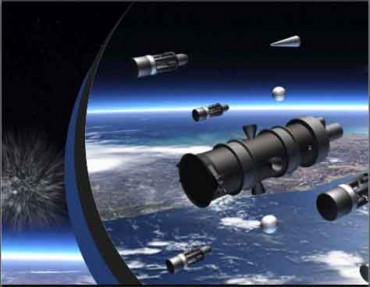 Russia will take out NATO?s missile defense system in Eastern Europe if the U.S. implements a missile shield, Chief of General Staff Nikolai Makarov warned on Thursday.
?A decision to use destructive force pre-emptively will be taken if the situation worsens,? he said at an international conference attended by senior U.S. and NATO officials, according to the Associated Press.
?When the Americans begin constructing the third stage of their missile defense plans in Europe and the effectiveness of our strategic nuclear forces is jeopardized, serious issues will arise regarding Russia?s appropriate reaction,? Deputy Defense Minister Anatoly Antonov said in an interview published in the Wednesday edition of Rossiyskaya Gazeta, according to Russia Today.
Russia recently commissioned a radar in Kaliningrad, its western outpost situated near the Polish border. The radar is capable of monitoring missile launches from Europe and the North Atlantic.
Last year Russian president Dmitry Medvedev said his country will retaliate if an agreement on the missile defense system is not reached. ?I have ordered the Armed Forces to develop a set of measures that will enable Russia, if necessary, to destroy the data exchange and control centers of the missile defense system,? Medvedev said  in November, 2011.
On April 5, 2009, Obama pledged to install a missile defense system in Eastern Europe to counter Iranian missiles. ?The Czech Republic and Poland have been courageous in agreeing to host a defense against these missiles,? Obama said from Prague. ?As long as the threat from Iran persists, we will go forward with a missile defense system that is cost-effective and proven.?
On Thursday, France?s Director for Strategy Affairs and Defense Policy, Michel Miraillet, said Iran?s missiles do not threaten Europe. ?Firstly Iran?s ballistic missile program threatens neither Europe nor the United States,? he said at a missile defense conference held in Moscow prior to a forthcoming NATO summit to be hosted in Chicago. ?Secondly, the Iranian nuclear program is developed for civil applications only.?
NATO and the United States reacted to the Russian promise to take out the facilities. Alexander Vershbow, NATO?s deputy secretary general, said the planned system will not be aimed at Russia and added that Russia?s intercontinental ballistic missiles are ?too fast and too sophisticated? for the planned system to intercept.
Senator John McCain, speaking from Lithuania, said the Russians are exploiting the planned missile defense system as an ?excuse to have a military buildup in this part of the world, which is at peace, is really an egregious example of what might be even viewed as paranoia on the part of Vladimir Putin.?
In March, presidential contender Mitt Romney characterized Russia as an enemy. ?Russia, this is, without question, our number one geopolitical foe. They ? they fight every cause for the world?s worst actors,? he told CNN?s Wolf Blitzer.