Via Bigpeace.com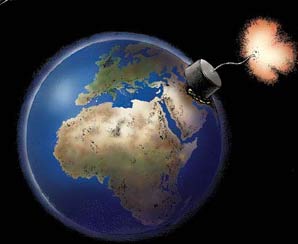 China warned Wednesday that tortured efforts to raise the US debt ceiling had failed to defuse Washington?s ?debt bomb?, and that it would further diversify its currency holdings away from the dollar.
US President Barack Obama finally signed an emergency austerity bill on Tuesday that averted what would have been a catastrophic debt default for the world?s biggest economy.
But a failure to rein in US borrowing could ?jeopardise the well-being of hundreds of millions of families within and beyond the US borders?, the official Xinhua news agency said in a blistering commentary on the deal.
?The months-long tug of war between Democrats and Republicans?failed to defuse Washington?s debt bomb for good, only delaying an immediate detonation by making the fuse an inch longer,? the commentary said.
?Meanwhile, the madcap farce of brinkmanship has disclosed yet another ticking bomb in the heartland of the sole superpower in the world ? the crippling tendency to politicise the economics while trivialising the politics.?
China, sitting on the world?s biggest foreign exchange reserves of around $3.20 trillion as of the end of June, is the largest holder of US Treasuries.
Xinhua?s comments came as China?s central bank said it would continue to diversify its foreign currency investments, signalling growing concerns in Beijing over the US debt crisis and economic downturn.
?China?s foreign exchange reserves will continue following the principle of diversified investment, enhancing risk management,? People?s Bank of China governor Zhou Xiaochuan said in a statement.
?Large fluctuations and uncertainty in the US treasury bond market will affect the stability of international monetary and financial systems, which will hurt global economic recovery.?
The statement, in which he also welcomed the plan, was the first official response to the deal to raise to the limit on US borrowing and enact at least $2.1 trillion in spending cuts over the next decade.
?We will further study and pay close attention to the details of the plan in hopes the US government and Congress adopts responsible policy measures to properly deal with the debt problem,? he added.
Also Wednesday, Xinhua said Chinese rating agency Dagong, which has links to the government through its chairman, had downgraded the United States? credit rating from A+ to A, with a negative outlook.
Dagong has made a name for itself by hitting out at its three Western rivals ? Moody?s, Fitch and Standard & Poor?s ? saying they caused the financial crisis by failing to properly disclose risk.