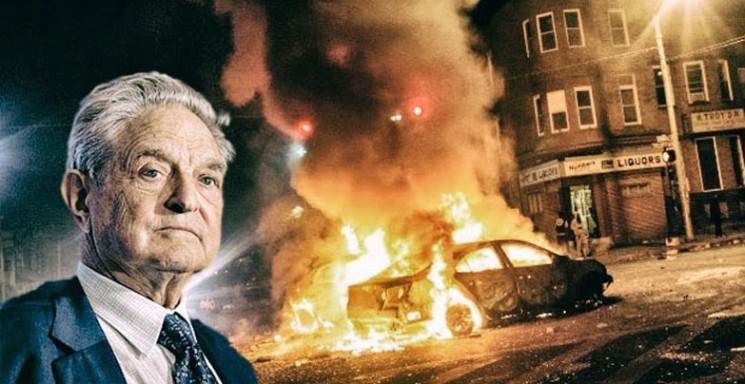 Via Infowars.com
George Soros has called for imposing a new debt burden on Europeans to pay for the destruction of their countries.
?EU leaders need to embrace the idea that effectively addressing the crisis will require ?surge? funding, rather than scraping together insufficient funds year after year. Spending a large amount at the outset would allow the EU to respond more effectively to some of the most dangerous consequences of the refugee crisis,? writes the billionaire ?philanthropist? for The New York Review of Books.
In addition to an increase in VAT (value added tax) ?contributions? from member states, Soros calls for states to borrow money from financial markets, thus adding to a debt obligation that has swamped the continent and produced the so-called ?eurozone crisis? responsible for anemic economic growth and unemployment.
?The EU presently enjoys a triple-A credit rating that is underused and that allows it to borrow in the capital markets on very attractive terms. And with global interest rates at near historic lows, now is a particularly favorable moment to take on such debt,? he writes.
Soros advises EU member states to borrow the money ?very quickly? to avoid political opposition.
In addition to spending borrowed money on massive welfare programs for illegal migrants, Soros believes governments need to use the cash infusion to ?respond more effectively to some of the most dangerous consequences of the refugee crisis?including anti-immigrant sentiment in its member states that has fueled support for authoritarian political parties.?
Political parties opposed to the tidal wave of immigrants entering Europe from the Middle East and Africa have gained power in Germany, France, Austria, Denmark, Finland, Italy and other EU member states. In addition to opposition to unchecked immigration, many of the political parties are aligned against the European Union and the political elite.
?From Spain to Sweden to Poland, populist protest parties are spreading,?Josef Joffe wrote in February for the German newspaper Die Zeit. ?In America the ?mainstream media? is the enemy. Here it is [called] the ?Lügenpresse [lying press].? Here they rage against ?those at the top,? there against the ?elites.??
Soros is calling for Europeans to pay for the effort to undermine opposition to immigration and the political elite. Huge majorities in Europe oppose immigration, globalist trade deals, and rule by unelected authoritarian EU grandees.