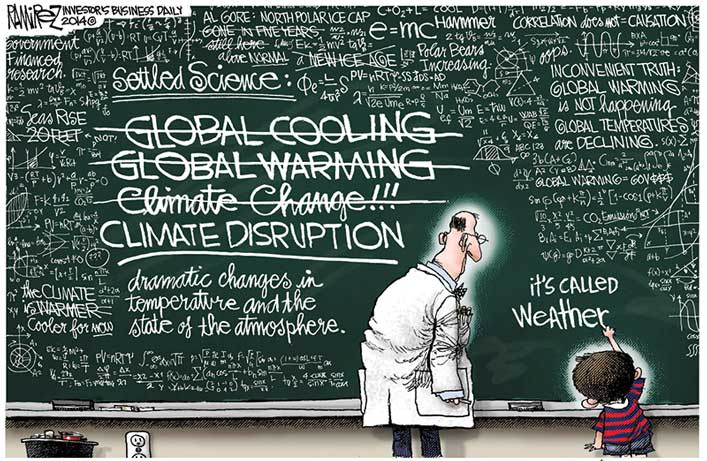 The United Nations draft global warming treaty calls for countries to protect ?the integrity of ecosystems and of Mother Earth? while cutting carbon dioxide emissions to fight global warming.
The draft U.N. treaty also emphasizes ?promoting, protecting and respecting all human rights, the right to development, the right to health, and the rights of indigenous peoples, migrants, children, persons with disabilities and people in vulnerable climate situations ? as well as promoting gender equality and the empowerment of women.?
All ?while taking into account the needs of local communities, intergenerational equity concerns, and the integrity of ecosystems and of Mother Earth, when taking action to address climate change,? according to the treaty.
U.N. delegates are in Paris trying to hash out a successor agreement to the Kyoto Protocol ? the last legally-binding climate agreement that failed to stem the rise in global CO2 emissions.
Delegates are hoping Paris will yield a legally-binding agreement, but it?s not clear if developing nations will agree to cut emissions.
United Nations Secretary-General Ban Ki-moon admitted Monday that even if global warming can?t be seen or felt by humans, the world should still agree to an international treaty to cut carbon dioxide emissions.
?We are living in a world of peril,? Ban tells Mashable, according to ThinkProgress. ?This climate change, even if it is not visible, is the worst threat to human beings.?
Environmentalists and scientists have increasingly turned to religion to gain support for regulations aimed at cutting carbon dioxide emissions. Activists hope support for a treaty from prominent religious figures, like Pope Francis, will add moral weight to their call to fight global warming.
But would Pope Francis support protecting ?Mother Earth?? ? a phrase explicitly referring to Greek pagan mythology in which Earth was personified as the mother of all things. The phrase also harkens to the Gaia hypothesis, which essentially postulates that all living things are interconnected with Earth?s biosphere and other climatic systems.
Anglican and some Islamic religious leaders have also called for countries to fight global warming. A group of influential Islamic leaders called for a jihad against global warming earlier this year, and Church of England officials have been pushing for more people of faith to take global warming seriously.
One Texas Tech University climatologist has been quoting the Bible to convince evangelical Christians to be concerned about global warming. Katharine Hayhoe even tailors her presentations to cater to Christian beliefs, including showing temperature graphs only going back 6,000 years ? she?s trying to cater to creationists.
?How loving is it to ignore when developed countries do things that actively harm developing nations?? Hayhoe told a group of Christians. ?When people who have resources do things that harm people who do not, right here in our country??
?That?s why our Christian values are integral to how we treat this issue,? Hayhoe said. ?Far from holding us back, or making us doubt, or saying there?s nothing we can do, our values demand we be on the forefront of this issue. That?s what we as Christians are called to do.?
Pope Francis supported a climate treaty in his encyclical ?Laudato Si,? and has praised President Barack Obama?s domestic agenda to limit CO2 emissions.
?It seems clear to me also that climate change is a problem that can no longer be left to a future generation,? Francis said on his U.S. visit in September. ?When it comes to the care of our common home, we are living at a critical moment in history.?
Francis? June encyclical does refer to Earth as our ?mother?, including taking quotes from Saint Francis of Assisi, but he clearly does so to highlight the importance of God?s creation and the alleged interconnectedness of all things.
?Everything is related,? Francis wrote, ?and we human beings are united as brothers and sisters on a wonderful pilgrimage, woven together by the love God has for each of his creatures and which also unites us in fond affection with brother sun, sister moon, brother river and mother earth.?
At the Vatican howling, grunting, and roaring animals, along with images of overcrowded city centers, depictions of pollution, and negative portrayals of industrialization, appeared on the facade of St. Peter?s Basilica on Tuesday during a much hyped ?climate change? light show.
The show was the finale of the opening celebration for the Year of Mercy declared by Pope Francis. The event was watched by tens of thousands in St. Peter?s Square along with estimated millions worldwide through online streaming.
The multi-million dollar show titled "Fiat Lux: Illuminating Our Common Home" was created and funded by climate-change partisans and population-control advocates with the goal to ?educate and inspire change around the climate crisis across generations, cultures, languages, religions and class.? Along with images of the world and its endangered animals, including lions, birds, apes, and whales, appeared New Age symbolism associated with ancient pagan deities.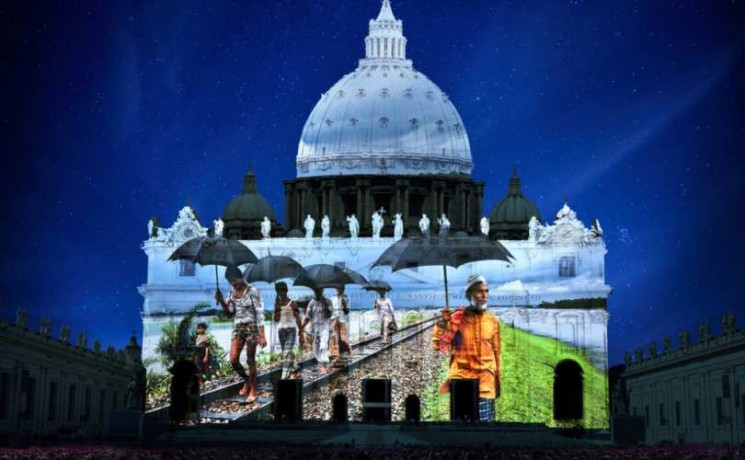 "I am sorry that the facade of St. Peter's has been turned into a propaganda stage for the scientific fraud known as ?Catastrophic Man-Caused Global Warming,?? Steven Mosher, president of the Population Research Institute, told LifeSiteNews.
Voice of the Family co-founder John Smeaton said that contrary to popular perception, the ?environmental agenda? is tied to an anti-human agenda.
St. Peter?s ?climate change? light show and its prototype held in New York last August are bizarrely connected to pagan occultism.
The shows director Travis Threlkel, founder and creative director of Obscura, said in an August interview when discussing the New York version of the show that was projected onto the Empire State Building, that pagan deities were specifically incorporated into the presentation. He said the show included the greek pagan goddess Gaia, a Greek Mother Earth who has been appropriated by worshipers of nature, along with Aya, a Babylonian mother goddess associated with the rising sun and with sexual love.
It was at the New York show?s end that startling images of the faces of various pagan goddesses were projected onto the building. Predominantly displayed was an image of Kali, the Hindu goddess of death and destruction. Kali, who was depicted with a long blood red tongue and whose name means ?the black one,? promised wealth to those who satiated her lust for blood by human sacrifice. Daily human sacrifices of young children were offered on her altars in India until 200 years ago. She has since been culturally appropriated by New Age spirituality as a kind of Mother Earth goddess.
If you want to know more about the climate change hoax don't miss these videos:
Sources: trunews.com, lifesitenews.com