Via CBC News
More fatalities, economic damage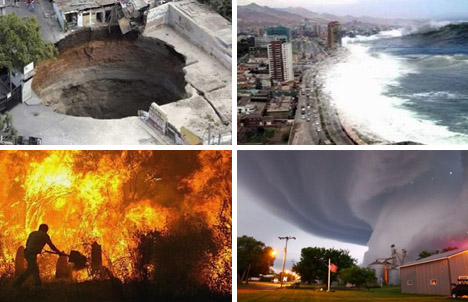 The global impact of natural disasters took a turn for the worse in 2010 with an uptick in fatalities and economic damage, according to a report released Tuesday.
There were 385 natural disasters worldwide last year that killed more than 297,000 people, affected over 217 million others and caused $ 123.9 billion in economic damages, according to the Annual Disaster Statistical Review 2010.
The number of victims increased from 198.7 million in 2009 to 217.3 million in 2010, while economic damages from natural disasters in 2009 were $47.6 billion.
"Two mega-disasters made 2010 the deadliest year in at least two decades," said the report.
First, Haiti suffered 222,570 fatalities, and had over 39.1 per cent of its population ? or a total of 3.9 million victims ? affected by the Jan. 12, 2010, earthquake.
Second, Russia, which was affected by extreme temperatures, floods and wildfires, had a total of 55,800 deaths. Most fatalities were due to the heat wave that occurred from June to August.
In terms of economic impact, the Chilean earthquake of Feb. 27, 2010, ranked highest with $30 billion in damages. The floods and landslides in China from May to August ranked second, costing $18 billion.
The Haiti earthquake, which caused damages of $8 billion, was especially destructive in view of the country's already impoverished economy.
Globally, more hydrological disasters were reported in 2010, and together with meteorological disasters ? the second-most frequent disasters ? accounted for 79 per cent of total disasters.
All monetary figures in the report, from the Brussels-based Centre for Research on the Epidemiology of Disasters, are in U.S. dollars.
The centre provides evidence-based research on the impact of disease and related health issues due to disasters and conflicts, in order to improve preparedness and responses to these humanitarian emergencies.