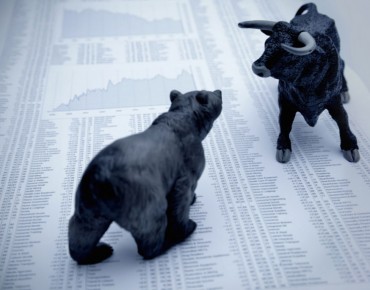 Via marketwatch.com
Global risks are accelerating. This is our fourth major poll update of industry leaders: A critical review of their warnings from early last year when we first predicted a 87% risk of a crash: Bernanke?s Fed saw an ?unsustainable bubble? … Gross: ?credit supernova? … Gundlach: ?kaboom ahead? … Ellis: ?Don?t own bonds? … Shilling: ?shocker? … Roubini: ?Prepare for perfect storm? … Shiller: ?Irrational exuberance is back? … Schiff: ?Doubling down? on ?doomsday? prediction … InvestmentNews? warning 90,000 advisers: ?tick, tick … boom!?
A few weeks later the crash risk was up to 98%. Then a dramatic preholiday uptick in investor sentiment. America?s collective unconscious tired of negativity after a Halloween headline: ?Economic guillotine dead ahead.? A week later, 2014 became the ?Year of the Boom.? Bank of America?s chief strategist screamed: ?Bet on the bulls now.? The Great Gatsby spirit was celebrating the holidays: ?Even old grumpy Dr. Doom, celeb economist Nouriel Roubini, began humming a happy tune all over television: ?A global recovery is going to occur, get into equities.?
What really happened? Fed politics. Short-term, Larry Summers withdrew as a candidate for the Fed chairman?s job. Dark cloud lifted as Janet Yellen become the pick. Wall Street cheered, Bernanke?s easy-money printing presses would not screw up their year-end bonuses. Plus Main Street was mentally exhausted, tired of the bad news, relentless political drama. We needed a holiday break.
By Thanksgiving, ?irrational exuberance? was accelerating in full holiday tilt: Headline: ?Shiller?s hot P/Es will power a roaring bull till 2017,? and 2014 got branded the ?Katy Perry market!? A week later, a Thanksgiving headline added: ?10 reasons to be a bull in 2014.?
But long term? What?s really ahead for America in 2014? Warning, something bigger is hiding in the deep shadows of our collective brain. At a recent lunch with an old friend, one of the world?s more successful commodities traders, he confirmed that ?something? was dead ahead. But not just another brief statistical shift in sentiment. Not a medium-term volatility shift. America, the world, are in a historic transition, a paradigm shift, a mysterious upheaval that few will grasp till it moves further along.