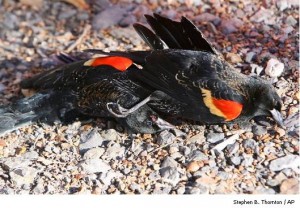 (CoupMedia.org) Hundreds of dead turtle doves have been found in a town in northern Italy this week just one week after the New Year incident in Arkansas.  The mysteries continue speculating that a potential chemical weapons leak in Arkansas killing birds and fish that has created a cover-up by having to now murder birds in distant locations to make it appear as if the incident was not isolated to Arkansas.
One interesting similarity to these mass deaths is that they do not appear to have much in common in terms of cause of death, except for all situations have been explained by "officials" and Mainstream media as having a Simple Physical cause, ranging from fireworks to abnormally seasonal weather.  The incident in Arkansas saw more than 5,000 dead birds that virtually exploded from the inside as if they had been placed in a Microwave, where the bird deaths in other areas have been of a significantly smaller volume and diagnosed with different causes of death.  Ranging from 50 to 75 birds in Sweden to 700 doves in Italy with blue stains on their beaks to the 5,000 in Arkansas that died via"blunt Trauma" from apparent "fireworks".
An Italian association for bird protection said that more than 700 dead birds have been picked up since January 1 from the streets of Faenza, about 30 miles south east of Bologna.  Many of the birds that fell dead from the sky were discovered with a mysterious blue stain in their beaks.
Scientists have carried out tests to discover why the birds died but Nadia Caselli of the bird association said they appear to have overeaten sunflower seeds, which damage their livers and kidneys. The seeds are mostly waste from a nearby oil factory.
Tests on the turtle doves show that the blue stain on the beaks could be from poisoning or hypoxia. Hypoxia is a lack of oxygen as a precursor to altitude sickness.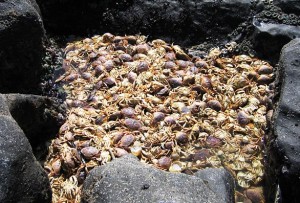 According to European media reports 40,000 dead crabs washed up on beaches in England that may be the result of climate change — this winter marked the chilliest December to hit Britain in 120 years, according to the Daily Mail.
These reports come on the heels of a string of mass animal death stories from Arkansas, Maryland, Brazil and New Zealand, which have caused many to joke or speculate that the world is on the verge of the apocalypse.
So far, however, each incident has been accompanied by a seemingly scientific explanation.
The birds in Kentucky may have died as a result of fireworks in the area, officials told the AP, while environmental experts say cold water likely led to the demise of the crabs in the U.K.
Cold water was also labeled the culprit in the deaths of millions of fish in Maryland's Chesapeake Bay this week.
The panic began when roughly 5,000 dead blackbirds dropped from the sky on New Years Day in Beebe, Ark, causing some residents to call 911.
"They are like bleeding out of the mouth and some of them are not dead. I think they have been poisoned," said one caller, in a 911 call released this week.
Despite the unusual timing of the events, officials say the explanation is probably nothing out of the ordinary.
As wildlife expert Tony Child told the Star, "It's just part of the circle of life."