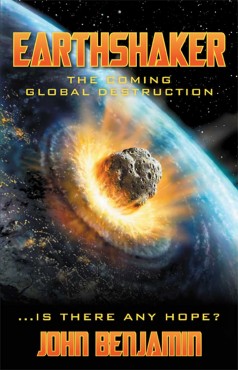 "Earthshaker: The Coming Global Destruction" by John Benjamin is a new Bible prophecy book that will shake up even those who think they're part of the "unshakeables." Benjamin's portrayal of what lies ahead is so spellbinding I dare not even hint at what he brings forth from Scripture. You'll have to read it for yourself – and I recommend that you take a tranquilizer first!
—Dave MacPherson, author of "The Rapture Plot"
This book was written for all those who have become increasingly aware that many things seem to be going terribly wrong in our present, rapidly changing world. There seems to be an alarming rise in bad weather, destructive earthquakes, volcanic activity, solar storms, massive floods and resultant crop failures. In general, very bad things appear to be coming our way on the horizon. Instead of world peace being ushered in, as many had hoped for, we now face the increased risk of terrorism, as well as rising tension between many of the world's leading nations, which may lead to future horrific and destructive wars. We are facing the worst economic troubles we've seen in many decades, with many who have lost their jobs and homes, now living in despair.
Many people are at wits end, having no idea what to do or where to turn for help; and most everyone senses that something very dark, ominous, and foreboding is settling over our world. It seems at times that the whole world has gone completely mad and that it is headed straight off the tracks for a huge train wreck! This book gives an up close and personal look at all the problems we are presently facing, as well as those we will most likely face in the future, and shows that in the end there will indeed be a positive outcome. The storm clouds will clear and the sun will come out shining brightly once again as the earth enters a new and golden age.
– John Benjamin
By John Benjamin? – 2010
Now also available in Spanish:
From John Benjamin:
There have been so many major disasters and horrifying events that have occurred in the last year, since the book Earthshaker was first written, that I felt I needed to write this much needed up-date.
Many major end time Bible prophecy events are now beginning to be fulfilled in earnest, in a rapidly increasing and very astonishing fashion. It was recently prophesied that many of these events would pick up and begin to "accelerate" both in magnitude and frequency, to the point that it will become impossible to even keep track of them all.
Well folks, we are almost at that point right now! There has been such an alarming increase in record breaking bad weather, earthquakes, volcanic eruptions, enormous solar flares, and other related events that it is just absolutely shocking! The entire world economy seems to be on the verge of total collapse.
Due to the dire situation in the middle-east between Israel and the Muslim nations that surround it, a "third world war" may be imminent and looming on the horizon. Many nations are being drawn into the conflict, and are all lining up and taking sides, including the world's leading nations. I feel something really needs to be said at this point, and many of these things addressed:

To order a hardback or paperback copy go to: earthshaker.co