Via Zerohedge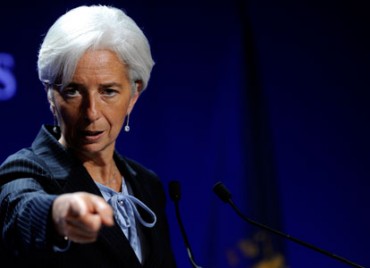 And so risk assets go to the OFF position following the latest statement from the IMF's Christine Lagarde, who until very recently was France's FinMin, and thus personally responsible for the current economic crunch:
IMF'S LAGARDE SAYS EUROPE DEBT CRISIS `ESCALATING'
IMF'S LAGARDE: CRISIS REQUIRES ACTION BY COUNTRIES OUTSIDE EU
Well, we know the UK is now out, courtesy of idiotic statements such as this one by Christina Noyer. So who will step up? Why Russia it seems.
RUSSIA CONSIDERS PROVIDING UP TO $20B TO IMF, DVORKOVICH SAYS
Why's that? Because like China (more on that in an upcoming post), Russia just dumped US bonds for the 12th straight month and instead both Russia and China are now focusing on making Europe their vassal state. So now we know where the money is coming from – sales of US debt of course!